Elaine Johns was born in Belfast and came to London to attend the Italia Conti Performing Arts Academy. She made records which 'scraped' their way into the charts in her teens. She has travelled the world as a musician, playing the flute and singing in big bands where she met her partner, Larry Johns, a jazz saxophonist and novelist. Click HERE to visit his website. They played in night clubs, hotels and cruise ships, returning home to a residency in the rooftop club at the London Park Lane Hilton.
Elaine was a print and television journalist in Bahrain for 4 years and is now a freelance, writing mostly short stories and articles for women's magazines. She has written several books in different genres including Crime/thriller, Contemporary Women's Lit and Children's. She lives in Cornwall and writes every day. She and Larry have two grown up sons: Matt, a jazz pianist and Sam, an engineer. Elaine loves reading and music and getting the most out of life whatever it throws at you.
My Other Life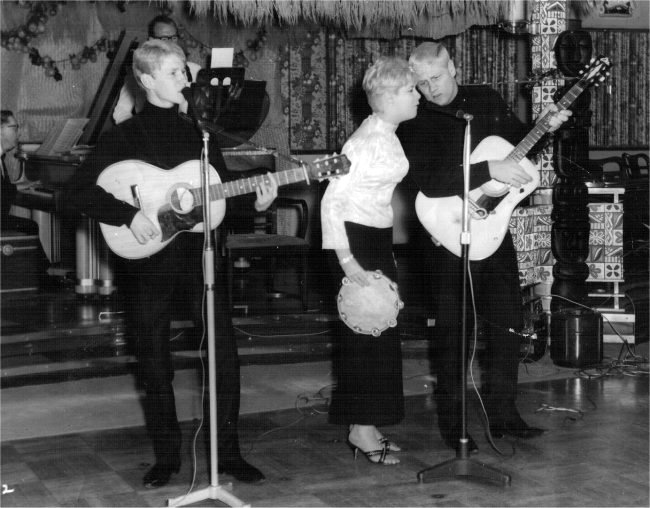 Good grief! Can't believe so much water has flowed under all our bridges since some of these pics. Time flies and you hardly notice it. The above photo was taken in the middle of our cabaret act on Queen Elizabeth - the old Queen Elizabeth liner. As 'Odin's People' (myself, my partner Larry, and my twin brother Derek) we entertained nightly in the Cabaret Lounge on the Queen Lizzie's transatlantic run to New York. Good times and great to keep visiting New York and listen to some of the fantastic jazz musicians there. And to get paid for it, as well! What can you say - jammy or what?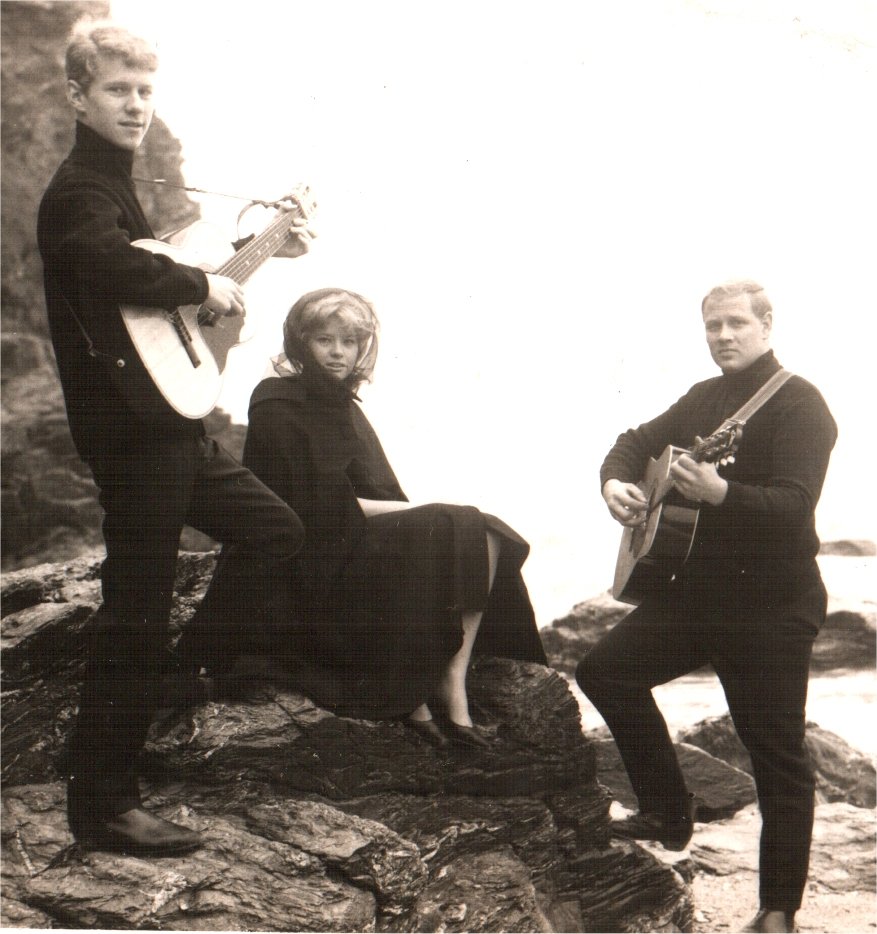 The act wasn't on the rocks, just us - on a publicity photo shoot on the shoreline at Porthtowan in Cornwall. Odin's People, a commercial folk and cabaret trio, in the 'same mould' as Peter, Paul and Mary. That dates me, right? Still, I'm very proud of the work we did as Odin's People and all the close-harmony arrangements. They were complicated and gave Larry some headaches writing and arranging them and were challenging to sing, but so rewarding. We did some TVs, recorded radio shows and made several records (except they call them 'tracks' nowadays - just to show I keep up!) You can hear a snippet of Odin's People here (Above) from one of David Jacobs' Music thru Midnight radio shows. All three of us wore black clothes and had blonde hair (dyed) for that 'Scandinavian' look. Dead moody! But, hey, the Scandi image seemed like a good idea at the time. Don't know how many of the people we played to actually made the connection between our 'image' and Odin, the Nordic Sky God of War and Poetry. (Hard to think that he could be both, still, lots of musicians double on instruments, so why not him too.)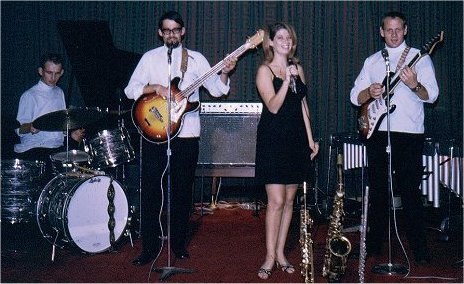 Playing at the Officers' Club on the Incirlik American Airforce Base in Adana, Turkey. Larry - who's on guitar in this pic - mostly played keyboards in the band as well as saxophone with the odd burst on the vibes (they can't arrest you for it) when we played 'dinner music'. It was called the Larry Miller band because our agent liked Glen Miller music and didn't think the surname Johns stood out enough. What to say! I played flute in the band and sang, Doug, the hairy one, was the bass player and Danny played drums and also guitar. We did mostly covers and pop for dancing, but also managed to sneak in some jazz (which we all loved) with flute, vibraphone and sax for dinner music while people were eating.
Thanks to all the guys for some great music and fun times - especially to our lovely friend Danny Churchill - on drums - who unfortunately passed away recently. A good friend and a great wit with an incredible love for life. We all miss him.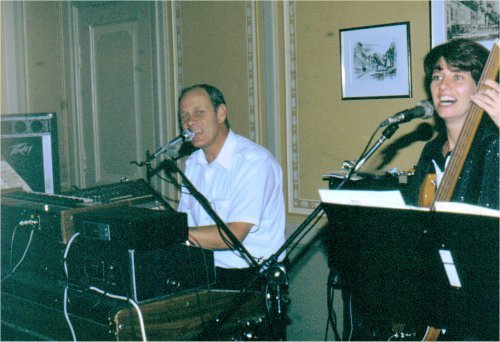 "Episode 2" - Change of name, as Larry and I were a duo in this pic (and for the rest of our musical lives). We were playing in Norway in the photo, at a restaurant called The Tamburen in Gamlebyen, Fredrikstadt. The regulars in the restaurant were wonderful people and when we left, they gave us a beautiful hand-blown coloured glass bowl. We still have it at home and it's a reminder of all the warm hearted Norwegians that we met over the 3 years that we played in hotels and restaurants all over the country. The Norwegians take you to their heart and we still have several good friends in Norway who we regularly keep in touch with and sometimes visit. Norway is a stunning country and we've been lucky enough to be able to see the fjords and the high mountains (the hoyfjells) where we played during the ski season. Great memories, and Norway is very close to my heart which is why I've used it as a setting in one of my books 'Lemonade and Lies'.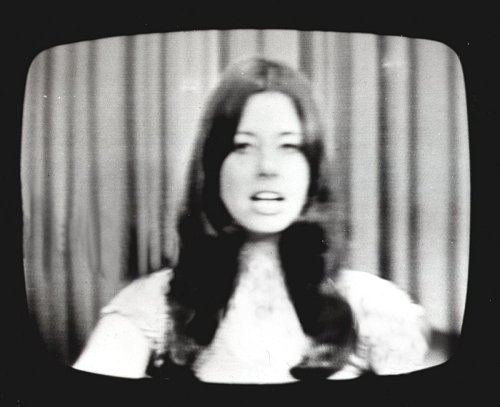 Reading the news on Bahrain TV. Wow! Hard to remember when I had hair that length. I worked as a newsreader and news editor on the first television station in Bahrain (obviously a few years have gone by since then). It was a challenging but very fulfilling job and whilst there I was also a "stringer" for a couple of English newspapers - something that taught me how to cope with 'writing deadlines'. I enjoyed my job both as a print and television journalist and followed up on a few frightening (heart-stopping) stories that gave me my own byline. Whilst I was doing this, Larry was running his graphic design business and occasionally we would still keep our 'musical' hand in by doing the odd cabaret spot at the Gulf Hotel where we had previously played as a larger in-house band. Happy Days and lots of sunshine. Lots!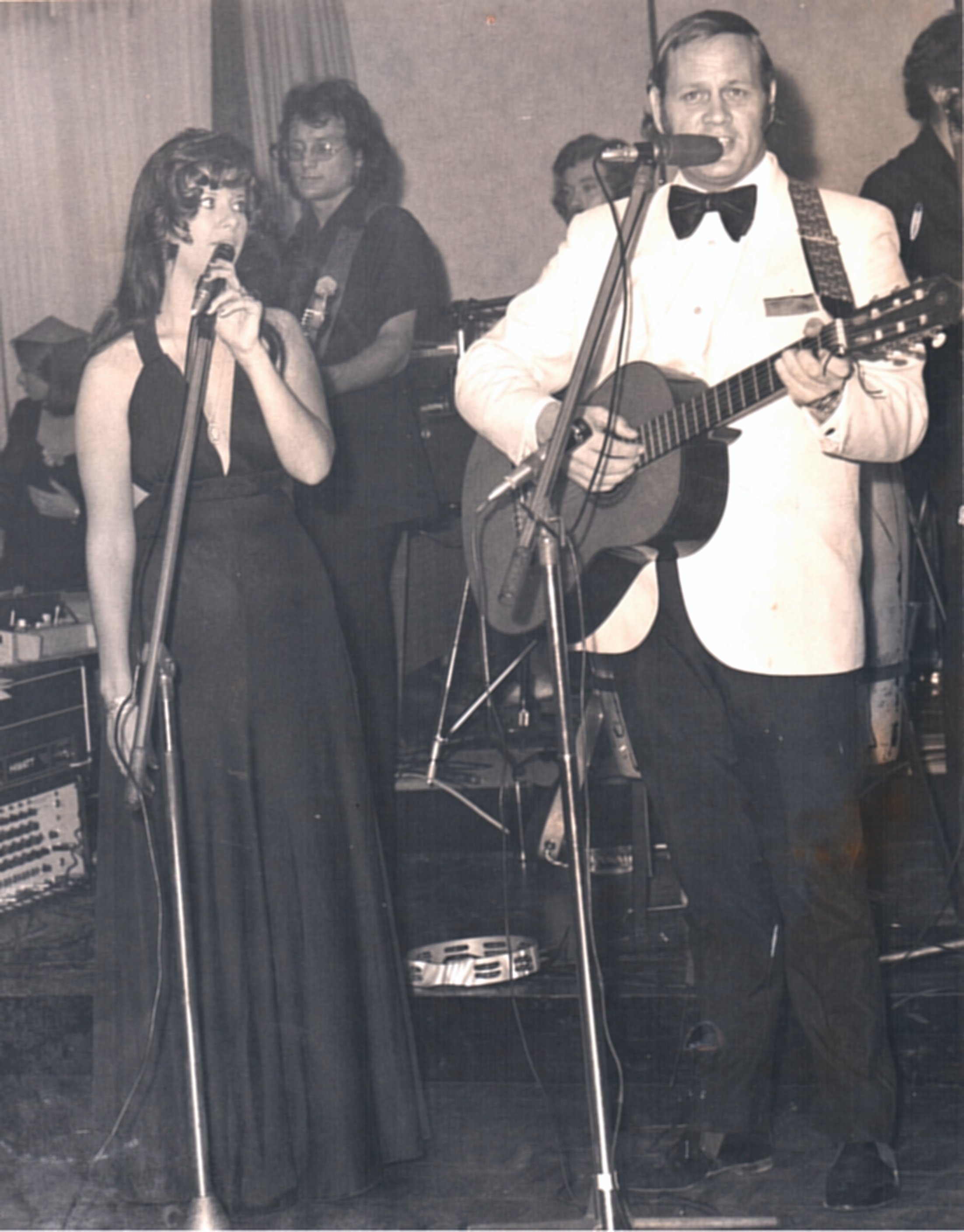 Gulf Hotel, Bahrain This is one of those cabaret spots I mentioned above. His nibs and I playing in the restaurant of the Gulf Hotel Bahrain one Christmas.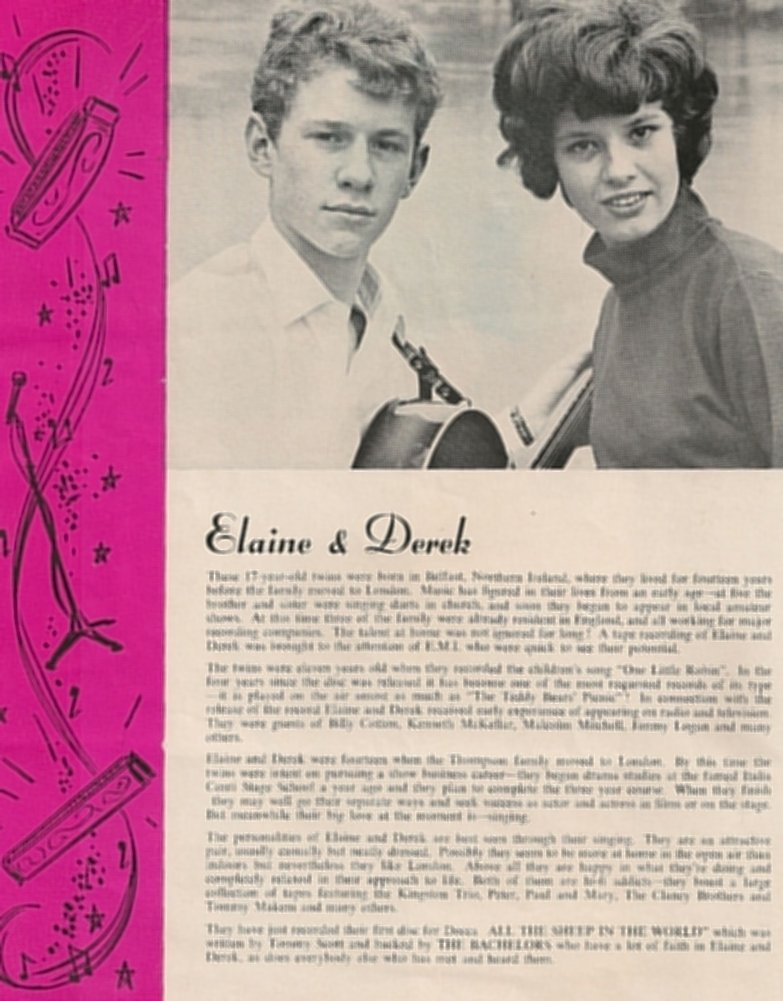 My twin brother Derek and I. We made several records in our youth and had been singing together in harmony since the age of ten. I think we were about 17 in this photo and it must be around the time that we went on The Bachelors tour and met Larry, the musical director of the showband backing all the artistes on the bill. Love at first sight (well, that's what he says!). Still together after xxxx years, so it must have worked.
My older brother (10 minutes older) is an actor and has been for many years now. He played 'the baby faced IRA killer' in "Harry's Game", 'Billy' in the film "Yanks", and has been "Charlie Fairhead" in Casualty for many years now. He's a good bloke and is always ready to diagnose any of your ailments, thanks to his time on the show, but as Derek himself often points out - he knows just enough medical facts to kill you. Well - it was good to stroll down memory lane, and I can't complain, life has had its exciting moments. Like everybody else, it hasn't all been 'beer and skittles' for life throws the yucky stuff at you as well as the great stuff. But for me, the important thing is to enjoy the good things and hit the bad ones head on, and just be grateful for each lovely new day that arrives whatever it brings. Living in Cornwall makes that easy. Yay! I'm off to start reading my new Jodi Picoult book. Can't wait. That lady can write. I gravitate between many of my favourite authors, often it's Lee Child and I find myself reading some of my old Reacher books over again. Aren't books great? Happy reading everyone.
---